Jim's Mowing 0800 454654
Wet soil is best left now as we finally see temperatures move lower and the rain continues to plague us on a regular basis.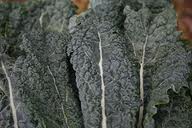 Cavalo nero
The winter vegetables for harvesting include brassicas, leeks and silver beet. Fashionable new veggies such as Cavalo nero (black Cabbage) pictured on the left and the coloured chards make an eye-catching display in the garden, but also taste delicious. The trick with C. nero is to remove the stalks and use the leaves.  Blanche them first to soften, squeeze and chop the leaves and sauté in olive oil and garlic.
Raised garden beds are still able to be filled or planted now with these winter vegetables, provided they are draining well. Use Living Earth Garden Mix to fill them.  Staking up broad beans as they grow is a must, for them to be productive. However, if they are getting too tall for their position, nip out the tops and sauté these as a delicious winter vegetable.
Deciduous fruit trees can be pruned and sprayed with copper from now on. Digger has been talking to many orchardists and viticulturists lately and this is the time when they begin spreading compost around their trees and vines – Use Living Earth Certified Organic Compost to ensure your edible plants are free of chemicals as they grow and fruit.
Planning
Winter is a great time for planning where you are going to put your gardens, retaining walls, drainage, pathways, etc. when spring arrives. Central has a great range of raised gardens, Keystone retaining walls, drainage coil, scoria, pavers, pebbles and so much more.
The Rest of the Garden
Prune roses – start later this month with your hybrid teas and floribundas. But Digger will probably leave this old-fashioned bush rose 'Mutabilis' to the left for another month as the silly thing doesn't know when to stop flowering!

Cotinus
Other shrubs – Deciduous shrubs such as cotinus (on the left), wintersweet (provided it has finished flowering), hydrangeas and philadelphus can be pruned by as much as half now. Frost Protection – Cover vulnerable plants on crisp frosty evenings, but if plants are burned leave the damaged leaves on to protect the rest of the foliage. Winter Treasures – Plant hellebores (winter roses) that are in garden centres now. These treasures really brighten up the winter, but are best planted on a bank where they can be seen.
The Lawn
With growth at a bare minimum there is not a lot required for your lawn this month. If your lawn is wet and soggy try to keep off it as much as possible so as to reduce wear and tear. Waterlogged lawn may result in yellowing of the grass. Yellowing of grass may also be due to lack of nutrients. Fertilise with Garden Supreme if required. Enjoy not having to mow your lawn as often as usual.